Reposted from Dr. Howard Hayden, Professor Emeritus of Physics, University of Connecticut, a summary of the IPCC scientific travesty in a single graph:
IPCC's Confidence Grows as Models Get Worse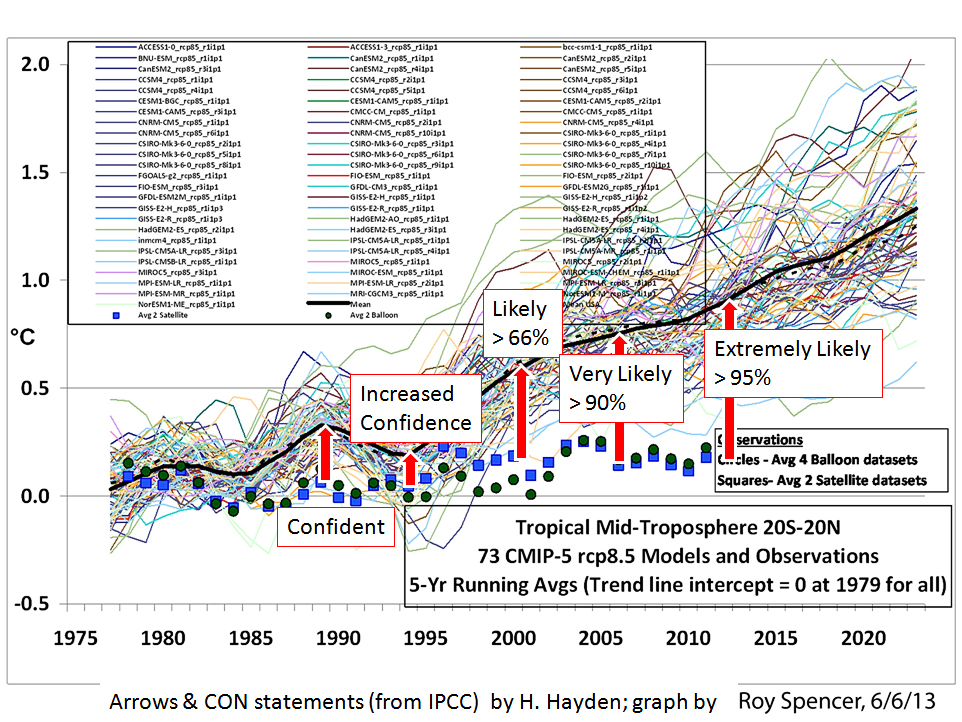 The IPCC is now producing its 5th Assessment Report, some of which is now in the public domain. See http://ipcc.ch/

In the First Assessment Report (FAR1990), they were confident that humanity is causing global warming.

Second..(SAR 1995)..Increased confidence

Third..(TAR 2001) "Likely"

Fourth (AR4 2007) "Very likely"

Fifth.. (AR5 2013) "Extremely Likely"

Oh, and "Global Warming" became "Climate Change" along the way.

Meanwhile, their models diverge more and more from reality.

Roy Spencer (www.DrRoySpencer.com) has produced a graph showing the results of 73 climate models, as compared with temperature anomalies measured by weather balloons and by satellite.

For the release dates of theAssessment Reports, we have inserted arrows showing the divergence from reality, and then used those data to show how IPCC's confidence grows while the models get worse.


see also Dr. Hayden's presentation on climate sensitivity and confusion of cause and effect and The science is settled. Al Gore says so!