from the GWPF CC Net Newsletter:
Global Warming Scientists Forced To Admit Defeat
Trapped Climate Expedition Ignored Reality

They went in search evidence of the world's melting ice caps, but instead a team of climate scientists have been forced to abandon their mission … because the Antarctic ice is thicker than usual at this time of year. The scientists have been stuck aboard the stricken MV Akademik Schokalskiy since Christmas Day, with repeated sea rescue attempts being abandoned as icebreaking ships failed to reach them. Now that effort has been ditched, with experts admitting the ice is just too thick. Instead the crew have built an icy helipad, with plans afoot to rescue the 74-strong team by helicopter. --Mia De Graaf and Hayley O'Keeffe, Daily Mail, 31 December 2013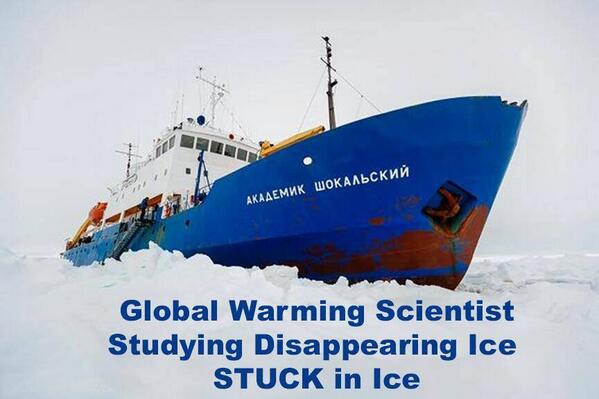 A rescue mission for a ship stuck in ice in Antarctica is under threat as reports have emerged that one of the assisting vessels may itself be stuck. Fifty-two passengers and four crew members were due to be evacuated by helicopter from China's Xue Long ship as soon as conditions allowed. However, the Xue Long has barely moved in a day and may be stuck in the ice. If the Chinese vessel is also stuck and the Australian vessel cannot help it reach clear water, there will be no airlift. --BBC News, 31 December 2013

Whenever the ice at the North and South Pole is mentioned, it is mostly in the context of melting ice triggered by global warming. However, the sea ice in Antarctica – in contrast to that in the Arctic – has proved to be remarkably robust. New measurements have now confirmed that. As the U.S. space agency NASA announced, the sea ice in the Antarctic has extended over an area of ​​19.47 million square meters at the end of September. That is the highest since measurements began in 1979. --Spiegel Online, 21 October 2013


The leader of a scientific expedition whose ship remains stranded in Antarctic ice says the team, which set out to prove climate change, is "stuck in our own experiment." But Chris Turney, a professor of climate change at Australia's University of New South Wales, said it was "silly" to suggest he and 73 others aboard the MV Akademic Shokalskiy were trapped in ice they'd sought to prove had melted. He remained adamant that sea ice is melting, even as the boat remained trapped in frozen seas. --Paul Tilsley, Fox News, 30 December 2013

Years ago, global warming believers renamed the phenomenon "climate change" - probably because of pesky details like unusually cold weather undercutting the warming argument. Now, just as advocates argue that Earth is approaching a tipping point, there's so much ice floating in Antarctica during the Southern Hemisphere's summer that the Australasian Antarctic Expedition posted in a statement: "We're stuck in our own experiment." Too bad the folks who are supposed to predict climate decades into the future are guided by scientists who could not manage to avoid ice floes during a five-week trip. --Debra Saunders, San Francisco Chronicle, 30 December 2013

According to Chris Turney, leader of the expedition trapped in the ice off the coast of Antarctica, the expanding sea ice has been caused by global warming. He obviously has not bothered checking the facts. First, a look at UAH satellite temperature anomalies for the region. The purple line is the trend, not the mean, but as can be seen is, to all intents and purposes flat. Any trend is actually negative. --Paul Homewood, Not a Lot Of People Know That, 30 December 2013

Tony Abbott's top business adviser has accused the Intergovernmental Panel on Climate Change of "dishonesty and deceit" as it focuses on "exploiting the masses and extracting more money" in a climate crusade. Maurice Newman, chairman of the prime minister's new Business Advisory Council, used an interview with the Australian newspaper to launch a strongly worded attack on the global body that provides advice to governments on the body of scientific findings about climate change. Newman also argued Australia had fallen "hostage to climate change madness" but he believed the "scientific delusion" was crumbling amid suggestions the global temperature could drop to little ice age levels. --Daniel Hurst, The Guardian, 31 December 2013

1) Rescue For Antarctic Ice-Bound Ship Under Threat - BBC News, 31 December 2013

2) Global Warming Scientists Forced To Admit Defeat... Because Of Too Much Ice -Daily Mail, 31 December 2013

3) Leader Of Trapped Climate Team Insists Antarctic Sea Ice Is Melting - Fox News, 30 December 2013

4) Trapped Climate Expedition Ignored Reality: NASA Announces New Record Growth Of Antarctic Sea Ice Extent - Spiegel Online, 21 October 2013

5) Antarctic Sea Ice 26% Above Normal - Real Science, 28 December 2013

6) No Antarctic Warming Since 1979 - Not a Lot Of People Know That, 30 December 2013

7) Professor Trapped In Antarctic Ice "Trying To Get Rich Of AGW Hysteria"? - Ice Age Now, 30 December 2013

8) Tony Abbott's Top Business Adviser Accuses IPCC Of 'Dishonesty And Deceit' - The Guardian, 31 December 2013

9) Climate Policies Helped Kill Australia's Manufacturing, Says Maurice Newman - The Australian, 31 December 2013
And other articles in the media today:
How technology can halt climate change.
What will it take to fix global warming? Scientists say the world, within a few decades, will need to switch to energy that doesn't emit greenhouse gases. Even the optimists agree, it won't be easy.
USA Today
Global warming researcher gets stuck in ice.
A funny thing happened during Australian climate-change professor Chris Turney's venture to retrace a 1912 research expedition in Antarctica and gauge how climate change has affected the continent: Two weeks into a five-week excursion, Turney's good ship MV Akademik Shokalskiy got trapped in ice.
San Francisco Chronicle
New England town budgets feel the force of 3 major storms.
Winter is off to a robust start in the Northeast. Thousands of New Englanders spent Christmas without electricity and a new storm meant more power outages Sunday night. The city of Portland is about a third of the way through its million-dollar, winter-weather budget.
Morning Edition

Home electricity use in US falling to 2001 levels.
Because of more energy-efficient housing, appliances and gadgets, power usage is on track to decline in 2013 for the third year in a row, to 10,819 kilowatt-hours per household, according to the Energy Information Administration.
Associated Press
In search of the next Big Fix to combat climate change.
As in the 1890s, society is once again looking for the next Big Fix -- whether high-altitude wind kites, "plug and play" nuclear reactors, giant synthetic trees to absorb carbon dioxide or sulfate aerosols to cool the planet.
USA Today
Pictures: Ten biggest energy stories of 2013.
Thanks to the fracking revolution, in 2013 the United States surged past both Saudi Arabia and Russia to regain its spot as the world's top energy producer. Just in time for the 40th anniversary of the Arab oil embargo, the U.S. finally might approach its goal of independence from foreign oil.
National Geographic News

DOE stands by 'social cost of carbon.'
The Obama administration says it will not reconsider a new carbon emissions formula for federal regulations. The conservative group Landmark Legal Foundation filed a petition in August calling on the Department of Energy to strike the provision on the "social cost of carbon" from a microwave efficiency rule.
The Hill